Careers
---
Clinic Receptionist Required
Qualification: Minimum qualification 12th Pass should be apply.

Gender: Female Candidate required.

Language: English, Hindi, Marathi Known well

Job Description:

Welcoming patients, pharmaceutical representatives and vendors on the telephone and in-person visitors and answering patient inquires
Scheduling appointments for patients
Maintaining records and accounts of patients
Assisting patients in filling medical forms
Processing different payments for patients
Maintaining the confidentiality of patient and doctor's information
Keeping track of office supplies, inventories and placing orders as necessary Ensuring maintenance of the reception area




Job Skills:

Patient Service
Computer Skills
Communication Skills
Multitasking




Schedule: 9:00 AM To 4:00 PM

Experience:

Microsoft Office: 1 year (Preferred)
Front desk - Receptionist: 1 year (Preferred)
Total work: 1 year (Preferred)




Contact Us: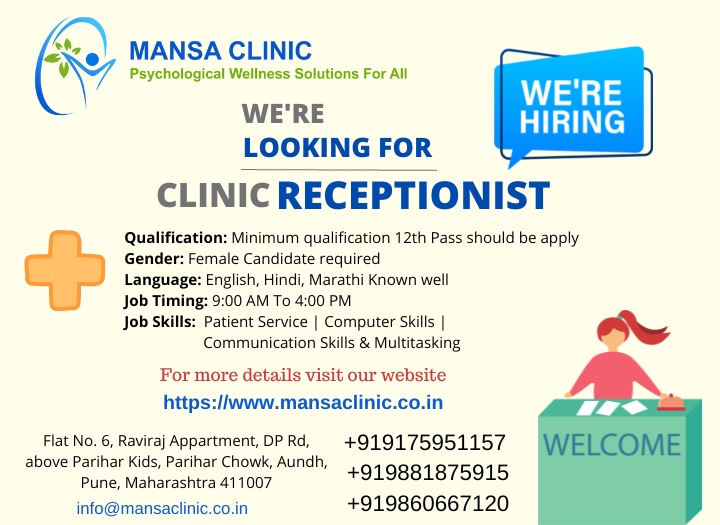 ---
We believe in primordial prevention, or counselling for sound mental health, and not just treatment of psychiatric disorders.
Patient
Testimonials

We visited almost 7 different doctors, all very well known. Took medicines for 4 months from all of them. But the condition became even more worse. Then fortunately we visited Dr. Baste she was well ... all well.. in just 1 pill. Not exaggerating but it's true, in just single dose she was OK. But yes you need to continue and follow the rest treatment.

I was happy with Having taking treatment of Dr. Ninad Baste for last four years. He gives enough time, understands and councils well. Gets involved with patient. Soft spoken, caring. He also refers for additional opinions, whenever required. Line of treatment with augmentation as required is very good. I strongly recommend him.

Past 2 years we have been taking treatment from doctor for my wife their has lot improvement in her and their advise has been always helpful to me.